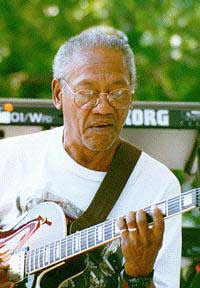 Jamaica's master guitarist
Ernest Ranglin
, has been involved in the development of all the styles of popular music in Jamaica, and is the country's best jazz guitarist. He played on many classic Jamaican recordings and performed with such artists as Jimmy Cliff, Monty Alexander, the Skatalites and the legendary Eric Deans Orchestra, a premier Jamaican Big band during the country's dance band era in the 40's and early 50's.
He was also a member of the Jamaica Broadcasting Corporation Orchestra, a pioneering group of some the best musicians of the day. In the early 60's he arranged and played on Millie Small's "My Boy Lollipop", Jamaica's first pop hit produced by Chris Blackwell of Island Records, with whom, he also recorded his early jazz Albums, Wranglin and Reflections.
In 1973, he was awarded the Order of Distinction by the Jamaica Government, for his contributions to music, and a Honorary Doctorate Degree from the University of the West Indies, in 2002, for his contribution to the development of music in Jamaica. Ranglin has recorded over 20 albums.