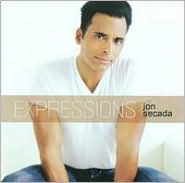 Jon Secada
has recorded the album he has wanted to produce for a longtime considering that he studied and obtained a Master's Degree in Jazz Vocal Performance at the University of Miami.
Since that time he has had a couple of occasions to exercise his jazz vocal skills: (1) Amor (1995) [Grammy Award], (2) Dave Grusin Presents West Side Story (1997) ["Somewhere"]. Now finally in 2009, Secada has given us an exceptionally entertaining and beautiful jazz album.
Not a smooth jazz album, it is a true straight-ahead jazz album.
Expressions
, a live recording- which gives it a very warm and intimate jazz club feel, is marked by a beautiful track, "I Do Love You" with a smooth scat performance by Secada. Jazz standards "Body and Soul" and "What a Wonderful World" are performed with sincerity and the vocal ability of a seasoned jazz vocalist.
Pop classics "Chances Are" and "Alone Again (Naturally)" are given the jazz treatment with Secada adding his imprint to them. Secada's own compositions: "Wishes", "Find Me In Your Dreams", "Angel", "Just Another Day", "Letter From A Friend", "Rainbows", "I Found A Reason" and "When Night Time Falls" are excellent jazz compositions and interpretations. Listeners will recognize, "Angel" and "Just Another Day" lyrically, but the arrangements and interpretations by Secada distance them from the originals and keep them in line with the straight-ahead jazz theme of the album.
Overall this is a wonderful, solid, and well produced jazz project, one that Frank. Sinatra, whom Secada recorded a duet with, would have been proud.
Adapted