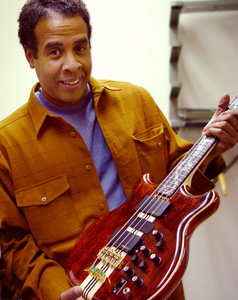 Bass virtuoso
Stanley Clarke
, the American jazz performer, composer, bandleader who rose to prominence in the 1970s and single-handedly brought the electric bass to the forefront of jazz and R&B teams with up-and-coming star, Japanese virtuoso
Hiromi Uehara
, keyboard master,
Ruslan Sirota
, and fierce drummer
Ronald Bruner Jr
, in a special "sneak peak" showcase of his upcoming June 15, 2010 release,
The Stanley Clarke Band
, solo album number 28.
On show will be Clarke's latest genius at BLUES ALLEY in DC - Thursday, June 3rd through Sunday the 6th.
In a career that spans nearly four decades and boasts a long list of feats including Grammy's, Emmy's, gold and platinum records, bass virtuoso Stanley Clarke, known for his innovative and influential work on double bass and electric bass guitar as well as for his numerous film and television scores, is one of the most celebrated bassists in the world. His last release, May 2009, titled
Jazz In The Garden
on Heads Up International, included two brilliant collaborators at the top of their respective games: pianist
Hiromi Uehara
and drummer
Lenny White
.